---
INSOMNIUM To Co-Headline "Ultima Ratio Fest"-Tour with MOONSPELL in September & October 2022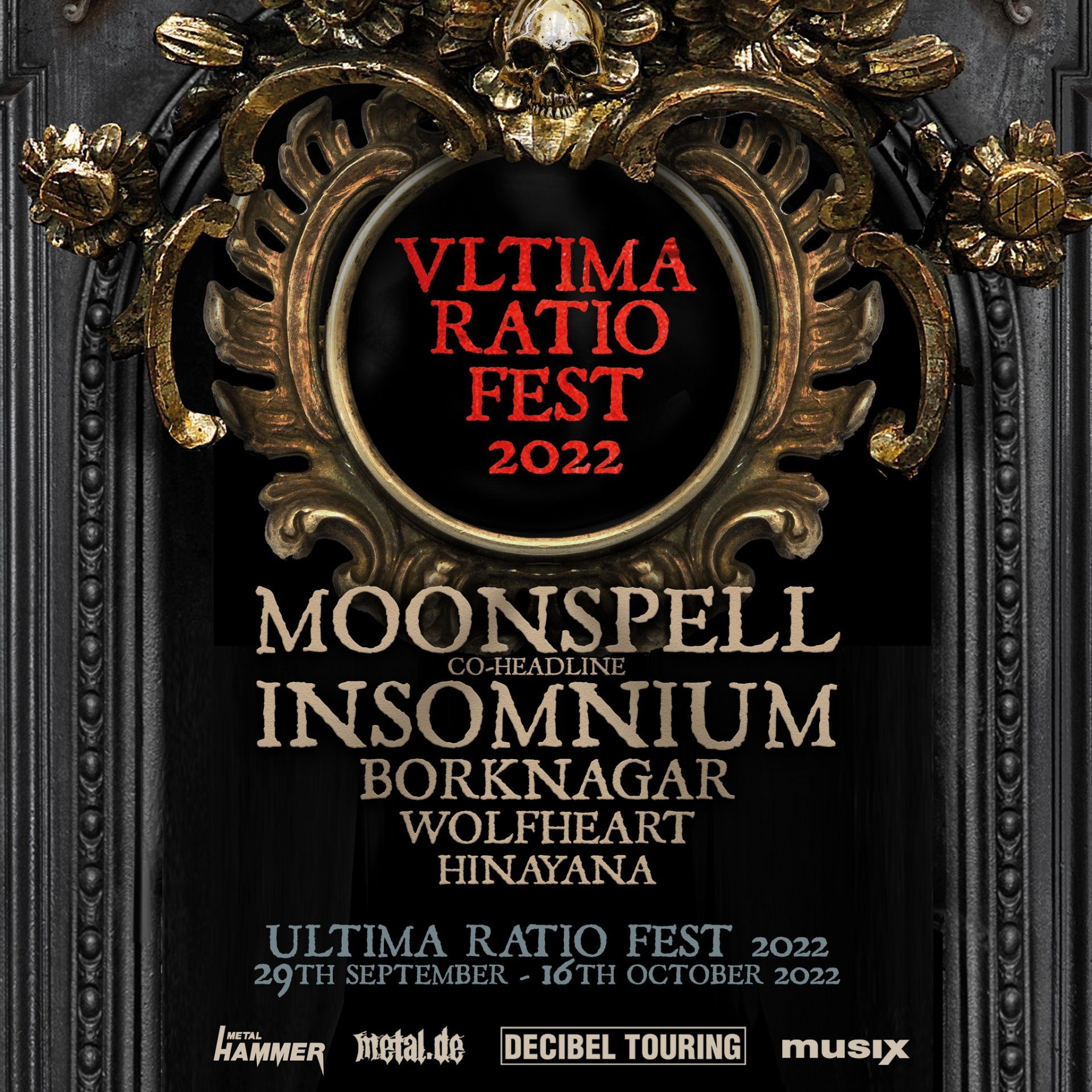 After using their forced time at home to write and release their critically acclaimed EP "Argent Moon" with 4 mesmerising music videos, Finland's melodic death masterminds INSOMNIUM finally cast their shadows over Europe again. Together with Portugal's dark metallers MOONSPELL, they embark on a co-headline tour to take their chants of burdening gloom across 9 countries in September and October 2022 and will take their most haunting tracks to the stages again, including songs of their latest full-length offering "Heart Like A Grave" that turned to be their second album in row to reach the #1 spot on the Finnish album charts.
Insomnium's frontman Niilo Sevänen comments: "We are thrilled to embark on this co-headline European tour with our friends Moonspell! It is a very strong package with 5 great bands every night, so you don't want to miss this tour. See you soon!" 
Ever since their formation 30 years ago, the Portuguese took the international heavy music scene by storm, followed by a monumental journey through an impressive, enthralling yet various back catalogue of thirteen records earning their places as one of the most distinctive dark metal classics of all time. But playing live has always been the motor of the band. Especially after the world went into shutdown the more MOONSPELL showed the typical hunger of wolves.
Progressive Black Metallers Borknagar are no strangers to the scene either. Founded in 1995 and featuring members of acts such as Enslaved, Immortal, Gorgoroth and Ulver, there's hardly any other formation that developed classic Black Metal with as much musical versatility as these Norwegians!
And although the Finns of Wolfheart have only been active since 2013, they have left a big stamp with their heavy, melodic doom metal sound. Their last album "Wolfes Of Karelia" even made it to number #8 in the official album charts.
Up&coming melodic death metal band, Hinayana, rounds up this eclectic tour package: The Texas- based band made their debut in 2018 but with their latest record, "Death Of The Cosmic", they stepped out as one of the US best kept metal secrets!
Tickets are already on sale – so catch this spectacular tour package in one of these cities:
---
ULTIMA RATIO FEST
Insomnium + Moonspell + Borknagar + Wolfheart + Hinayana (Insomnium will replace the previously announced My Dying Bride that are no longer part of the tour)
29.09.2022 (DE) FRANKFURT - Batschkapp
30.09.2022 (DE) LEIPZIG - Hellraiser
01.10.2022 (BE) ANTWERP - Trix
02.10.2022 (DE) REGENSBURG - Eventhall Airport
03.10.2022 (FR) PARIS - Elysée Montmartre
04.10.2022 (FR) LYON - Transbordeur
05.10.2022 (CH) PRATTELN - Z7
06.10.2022 (DE) STUTTGART - LKA Longhorn
07.10.2022 (DE) GEISELWIND - Music Hall
08.10.2022 (DE) MUNICH - Backstage Werk
09.10.2022 (CZ) BRNO - Sono
10.10.2022 (HU) BUDAPEST - Barba Negra
11.10.2022 (AT) VIENNA - Arena
12.10.2022 (PL) WROCLAW - A2
13.10.2022 (DE) BERLIN - Kesselhaus
14.10.2022 (DE) HAMBURG - Markthalle
15.10.2022 (DE) OBERHAUSEN - Turbinenhalle
16.10.2022 (NL) UTRECHT - Ronda
---